Phew.....I'm back all right but my back is not.
Mal au dos....fatigué...epiusé....mais content.
What a busy hectic weekend for a relatively small show.
First a pic of the layout in its latest double track modular guise.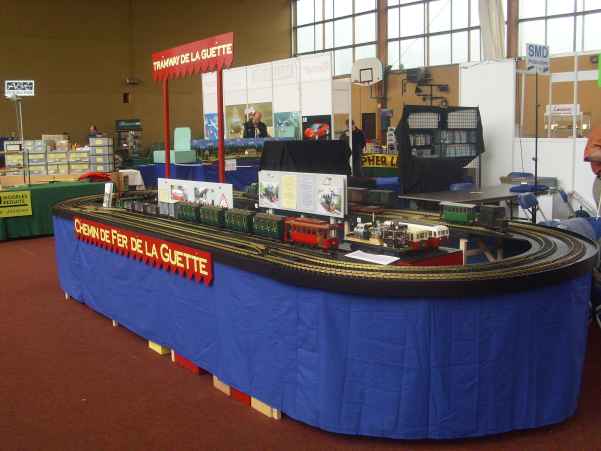 This was a big success but double track means more trains and twice as busy.
I have some short video clips to put together later.
Ferrovi'art is a smallish show for mainly artisan traders with a few layouts invited to add some animation.
Over the the 2 1/2 days there were over 2,500 visitors.
Friday started with loading a hired van (I can no longer transport in my car....) and the show started at 1600 and finished at 2100.
Saturday was completely manic, non-stop from 1000-1900. And finished with a surprise Champagne presentation and gifts for people operating layouts.

Then rush back home gobble down food and set about reparing poor EKB20 the big Reppingen 0-6-0 which spun a wheel and lost a coupling rod.

I had to reset all the timing and luckily I 'guessed' it almost right. good enough for 2 hours of Sunday morning steam.
Sunday was a little quieter except for the traditional chaotic end of show rush to dismantle and get away quickly.
Enjoyably, Pierre Christian and wife Nathalie (Imagimonde) who had a small stand came and stayed the weekend at my house as I only live 30 mins from the exhibition venue.
Their daughter is the same age as mine and the 2 girls are quite good friends.
I also have most of the parts for my engine shed now.
They are a really pleasant family.
A very nice Sunday afternoon surprise was to see Phil Kelly who 'just sort of popped in' en route back to the UK.
What a shock to look up from my plastic trayed lunch to see his smiling face across the tracks.
This was one of the best organised and well treated shows I have attended. Nothing was too much trouble for the organisers and I was constantly kept in food, wine and coffee.
Claude Dussot especially deserves a mention.
As usual with 3 day shows you get a great cross section of people complete with their seemingly daft questions and comments.
'C'est du vrai vapeur monsieur ?' is one of the more popular.