Le Chemin de Fer de Cormeilles, Glos-Montfort et extensions
While taking an enforced break from constructing a new garden railway I have discovered that a real gem of an independant metre gauge network once existed just 10 kilometres from where we live in Eure - Haute Normandie.
Over the coming weeks, as time permits I shall be documenting this line from material that exists plus visits to take new photographs of locations and buildings that remarkably still remain.
The line sadly closed at the end of the second world war due to the prohibitive cost of reconstruction following (mostly) allied bombardments and destruction.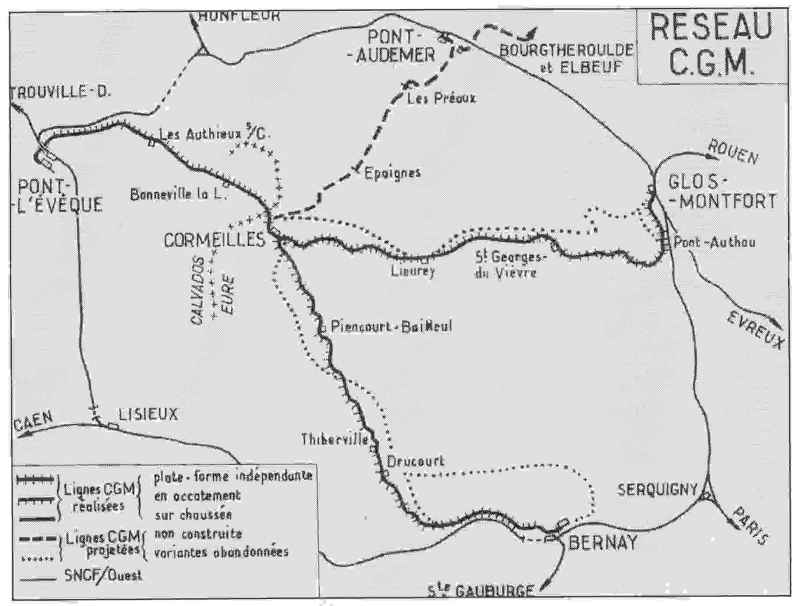 The 'main line' ran from Cormeilles in the west to Glos-Montfort in the east.
There was an extension north-west to Pont L'Eveque (Bishop's bridge) and one south-east to Bernay (near where we live).This gave the GGM three connections with SNCF lines those of which still exist in passenger traffic.
I work at the lycée in Pont Audemer in the North and pass through the pretty village of Lieurey where the station still remains as a private dwelling. It was this that first alerted me to the line's history.
To get an idea of map scale and distance. The journey by fast, straight road from Bernay to Pont Audemer is about 30 minutes and a distance of 35 kilometres.
To be continued.....